Black Hills Energy Arkansas provides natural gas energy efficiency home assessments as part of Home Performance with ENERGY STAR. These assessments are designed to help you discover how and where you can save on energy costs while increasing the comfort value of your home.
Overview
Making energy-efficiency a priority in your home not only saves you money, it's environmentally responsible. That's why Black Hills Energy Arkansas offers the Home Energy Savings Program to provide you with benefits to help you save money while improving the comfort of your home. 
As a partner with Home Performance with ENERGY STAR, a program backed by the U.S. Environmental Protection Agency and U.S. Department of Energy, Black Hills Energy Arkansas customers have access to BPI or HERS-certified contractors who focus on whole-home improvement.
Black Hills Energy Arkansas also partners with other participating local electric utilities to bring you combined incentives for even more savings on your utility bills.
Benefits of participation:
A more energy efficient home
Long-term money savings
Increased home value
Improved indoor air quality
Increased comfort of your home
Reduced carbon footprint
Is Your Home Eligible for Energy Efficiency Improvements?
Who Qualifies?
To qualify for the BHEA Home Energy Savings Program the home must:
Have a valid residential account (new homes under a year old are not eligible)
Home must be at least 10 years old or have monthly usage (as shown on the bill) of 5 cents per square foot or higher (see Home Efficiency Meter to calculate)
Have been occupied for the previous 12 months
Not have participated in a weatherization program offered either through a utility or the government in the past 5 years
To determine whether you need an assessment, divide your highest winter Black Hills Energy bill by the square footage of your home. This will give you your energy cost per square foot. If your energy costs are 5 cents or more per square foot, your home qualifies for the Home Energy Savings Program.
$________ ÷ _________ = $/Sq. Ft.
(Bill Amt.)        (Sq. Ft.)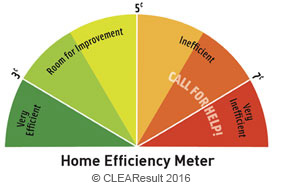 How It Works
Determine your energy cost per sq. ft.
Call us toll free at 855-350-1563.
We'll help determine if your home qualifies and answer any questions you may have about the program.
You can then contact a participating home energy consultant to set up an appointment at your convenience to begin the evaluation.
The consultant will show you the no-cost energy efficiency measures that may be available for your home.
Finally, if you have a natural gas water heater, your home energy consultant may install energy-saving sink faucet aerators and an energy-efficient showerhead.