Let Black Hills Energy Arkansas help you lower your energy consumption and save money through rebate programs, energy saving services, tips and more.
Home Energy Savings Program with Home Performance with ENERGY STAR
Let Black Hills Energy Arkansas help you use significantly less natural gas in your home and lower your monthly bill! Get a no-cost professional home energy evaluation as part of the Home Performance with ENERGY STAR program and start saving energy and money today. Learn more about Home Performance with ENERGY STAR.
What to expect from participating in the Home Energy Savings Program.
If needed, a participating BPI or HERS-certified Home Energy Savings Program contractor will install some or all of the energy-saving measures in your home at no cost:
Air Sealing — Air sealing is done by some or all of the following methods:
Weather stripping and door sweeps
Caulking and sealing gaps and cracks
Sealing around pipe and wire penetrations
Isolating attic and garage spaces from the interior of the home with the above methods
Duct Sealing — Typical houses have 20 percent or more of their conditioned air lost through leaks, holes and poorly connected air ducts. Sealing leaks can lead to improvements in:
Comfort and indoor air quality
Utility bill savings
Life of equipment
Insulation — Insulation helps keep your home cool in the summer and warm in the winter. When coupled with air sealing, you can potentially save up to 20 percent on heating and cooling costs.
Homes with an R-14 or lower in the attic qualify for attic insulation.
Direct Install Measures — These are installed by the contractor in your home where needed:
Energy-saving showerheads
Energy-saving faucet aerators
How do I start?
For more information or to participate in the program, call us toll free at 855-350-1563 to speak with an energy efficiency representative.
Saving money while you do it? That's even better.
Making energy-efficient choices is important to the environment, as well as your wallet. The BHE Home Energy Savings Program provides benefits for you, your community and the environment. Black Hills Energy is partnering with participating electric utilities to bring you combined incentives for even more savings.
Once you see what a difference energy-efficiency improvements can make in your home, you may want to participate in other available residential programs, which include:
Water Heating Rebate Program
Space Heating Equipment Rebate Program
Smart Thermostat Equipment Rebate Program
Residential energy rebates
Rebates on Home Water Heating, Space Heating, and Smart Thermostat Equipment
Take advantage of our rebates on home water heating, space heating, and smart thermostat equipment and start saving money today. Reducing your home's energy costs now means saving more for years to come. 
Look at our example rebates below to see how you can start saving now.
EXAMPLE REBATES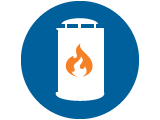 Water Heating Rebates
Tankless Water Heater with .90 energy factor or higher
REBATE: $300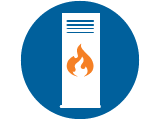 Heating Equipment
Natural Gas Forced-Air Furnace with 95% AFUE or higher
REBATE: $400